Kimo And Nikki: The Wave FM Morning Crew.
MONDAY to FRIDAY -- 06:00 AM - 10:00 AM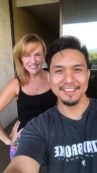 Kimo Apaka is a product of Hilo, Hawai'i. An entertainer by choice, comedian by chance and a local, Facebook sensation by surprise; frontman to a following of several thousand people. A proud dog-dad, he is excited to help caffeinate your morning drives and hopes to broadcast Aloha across the Big Island's airwaves. You're more than likely to catch him either taking a selfie or snapping his amazing cohost, Nikki, acting a fool. Mahalo to everyone for allowing this polished "braddah" to have a voice!
Nikki began her career as a performing artist at the age of 11. The performing bug bit her and never let go. From Anaheim to San Francisco, California, Nikki performed, directed and crewed in various stage-productions. After receiving her B.A. in Anthropology and a minor in Education at San Francisco State University, Nikki developed and implemented an after-school theatre arts program for the YMCA of San Francisco. Since moving to Big Island in 2014, where her family roots lay, Nikki has worked as a Special Education teacher, serves as President on the Board of Directors for the Aloha Theatre and has worn several hats with Resonate Hawaii. She is thankful for her On-Air opportunity which allows her to promote amazing community events as well as stretch her creative-craziness in making the morning commute entertaining. She enjoys Taco Tuesdays, water sports and all things sparkly.